JUNIOR YOUTH MINISTRY
GRADES 1-5

Open to all children in the parish who are in first through eighth grade. The purpose of the organization is to allow the children of the parish a chance to get together for fun (games, crafts, and activities), food, and fellowship. There is no fee to join, but a permission slip is required for each child in attendance. The permission slip needs to be filled out prior to the child attending their first event.
We meet approximately once per month from September through April. Events are publicized through the church bulletin and handouts in PREP classes. We meet for approximately two hours either at church or at another location in the local area.
If you are interested in joining us, need more information, or have any questions, please contact Ed and Robin Burns: jryouthministry@hspalmyra.com.
TAILGATE PARTY! Children in grades 1-8 are invited to a tailgate party on Sunday, September 25, from 1-3pm on the church grounds near the pavilion. Come and join us for a cookout and tailgate games, and wear your favorite team colors or jersey! RSVP to jryouthministry@hspalmyra.com by September 22.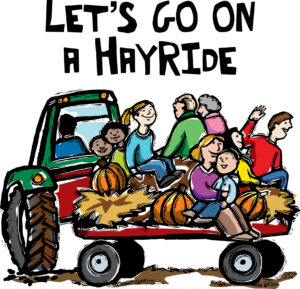 LET'S GO ON A HAYRIDE! Saturday, October 8, 6:15pm, Risser-Marvel Farm Market (2425 Horseshoe Pike, Annville)
Children in grades 1-8 and their families are invited to a hayride and campfire with hot dogs, apple cider, and s'mores! The event is free for children in grades 1-8. Adults and siblings are $8; children under 3 are free. An RSVP is required by October 2 to jryouthministry@hspalmyra.com. Have each child of all ages bring their own flashlight to play flashlight tag.