"To seek to know the love of God revealed in Jesus Christ; to celebrate together as a Catholic family of faith; and to share our gifts and talents in loving service to others."
Register with our parish
---

Access our online parish directory: https:members.instantchurchdirectory.com
Sign up for the directory here.
---
NEWS  & EVENTS

CHURCH ENHANCEMENTS, SUMMER 2023:
Listed below are the temporary locations for Mass. Please contact our parish office if you have any questions. Thank you for your patience while our pews are being refurbished!

Estimated Completion Date: August 11, 2023

Saturday Vigil Mass 4pm:
Inside in Agape Hall (live streamed)
Sunday Mass 8:30 and 11am:
Outside at Pavilion (Agape Hall in case of weather).

Please bring lawn chairs if you wish. In the case of heavy rain or wind and either Mass is moved inside, it will be posted on Facebook and on our website that morning. Outdoor Masses will not be live streamed.
Daily Masses Monday & Thursday at 9am, Wednesday
at 6pm:

Inside in Agape Hall (live streamed W & Th)
Daily Mass Friday 7am:
Outside at Pavilion
Confessions:
Will be posted in or near Agape Hall
ROSARY AT THE SQUARE: Saturday, June 10, 12:00 noon, Palmyra Clock.
The Knights of Columbus and the Legion of Mary invite all parishioners to join us for the monthly public rosary held on the second Saturday of each month.
NEW BISHOP APPOINTED: Bishop Timothy Senior was appointed Bishop of Harrisburg by his Holiness Pope Francis on April 25, 2023. He will be installed as Bishop of Harrisburg on June 21, 2023 at 2pm at the Cathedral of St. Patrick, Harrisburg. To learn more, visit the diocesan website at https://www.hbgdiocese.org/.

SAVE THE DATE – SpiritFest 2023!
As you start making summer plans, remember to Save the Date for this year's parish festival! SpiritFest 2023 will be held the first weekend in August – August 4 and 5 – from 5-10pm each evening. More information to come as the Festival Committee actively makes plans for two nights of Eats, Treats and Beats! For more info, visit our SpiritFest webpage!

SpiritFest BASKET RAFFLE GIFT CARDS & MONETARY DONATIONS 
For this year's SpiritFest basket raffle, we are seeking gift cards and monetary donations to put towards basket items and raffle giveaways. We will use these donations towards purchases of a gas grill, TV, apple products, etc. Kindly drop off your donation at the parish office, Attention: Amy Morrissey—Basket Raffle. The deadline is July 1. For questions, call 717-574-3910 or email amymariemorrissey@gmail.com. Thank you in advance for your kindness and generosity!
CERAMICS NIGHT: Monday, June 5, 6-8pm, krb ceramics studio, Mt. Gretna
Adults are welcome to join Holy Spirit at krb ceramics in Mt. Gretna to form and glaze two ceramic dishes all in one evening. Pieces will be fired and returned in ten days. You MUST register and pay online at https://www.krbceramics.com/adult-classes-new (scroll to the Holy Spirit listing). The deadline to sign up is Friday, June 2. Max of 17 participants. For more information, check out https://www.krbceramics. com/one-private-class. For questions, email faithstudy@hspalmyra.com.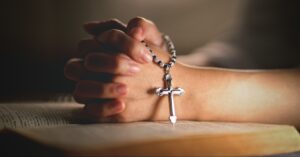 WMN MONTHLY ROSARY: Sunday, June 18, 2:30pm, Classroom D
The Women's Ministry Network invites all women of the parish to join us for a monthly rosary on the third Sunday of each month at 2:30pm. We will start on Sunday, June 18, in Classroom D. We look forward to praying with you! For questions, please contact WMN@hspalmyra.com.
ST. JOAN OF ARC CHURCH 49th ANNUAL PARISH FESTIVAL: June 8, 9, 10 (Thurs, Fri, Sat). 5:00-9:30pm each night. For more info, visit their webpage here.

SEVEN SORROWS SUMMER FESTIVAL: June 22-24, 5:00 – 9:00pm rain or shine, Middletown, PA
Includes a flea market, cash raffle, basket raffle, jewelry extravaganza, bingo, and games for all ages. Patrons can enjoy great homemade meals of honey glazed baked chicken, pasta with meatballs, halupki casserole, pierogies, haluski, chicken Caesar salad, and baked goods in the cafeteria each night. Outside food includes Schmidt's sausage, gourmet chicken cheese steaks, seasoned fries, and funnel cakes. Friday and Saturday only: Farm Show milkshakes. Live entertainment every night! Thursday: Dave Kelly Duo; Friday: Dovetail; Saturday: Crossing Abbey Road. Friday and Saturday nights also feature fun for kids with a 60-foot long, two-lane obstacle course with a seventeen-foot slide and bounce house. Seven Sorrows of the Blessed Virgin Mary Parish is located at 280 N. Race St., Middletown, PA 17057. For more information, visit www.ssbvm.org.
QUO VADIS DAYS: June 25-29, Mount Saint Mary's University & Seminary.
Calling all young Catholic men – are you wondering what God's plan is for your life? Do you need guidance in your discernment? Join us for Quo Vadis Days for a time of recreation, fellowship, prayer and guidance as you explore God's call for your life in this week-long camp. Quo Vadis Days is for men ages 15-25. Cost is $100 per person. Register by June 16 to attend. Details and registration can be found at https://www.hbgdiocese.org/event/quo-vadis-days/. For questions, contact the Office of Vocations at 717-657-4804, x 282, or email vocations@hbgdiocese.org.
WOMEN OF GRACE UPCOMING STUDIES & EVENTS:
Annual Malvern Retreat at Malvern Retreat House in Malvern, PA, July 21-23, 2023. Go Deeper-Healing the Wounds of the Heart; Johnnette Benkovic Williams. For pricing, more info, scholarship inquires, or to register, visit: www.womenofgrace.com or call 800-558-5452.
Women of Grace Foundational Study at Seven Sorrows Catholic Church in Middletown, PA; 
Saturday Mornings 9:00am to 11:00am, September 9 – November 11 (excludes October 11). Contact Chris Arnold at carnold@womenofgrace.com or 717-379-6041.
AREBA TRAVEL CLUB:
The Areba Travel Club of St. Joan of Arc in Hershey presents the new TRIPS Schedule. If interested, need more information, or would like to sign up, please call Al Casciotti at 717-533-3275.

1) Central Pa Gems & Rusty Rail Brewery — August 2, 2023
2) Honor & Valor & Buffet Lunch at the Thayer Hotel — September 5, 2023
3) Sight & Sound "Moses" & Lunch at Shady Maple — October 4, 2023
4) Sight & Sound "Christmas Show & Miller's Smorgasbord — December 12, 2023
THE MASS INTENTION BOOK is open through August 31.To schedule, stop by the parish office or call 717-838-3369. Mass Intentions are $10. Candles and flowers are available for the entire 2023 year. Sanctuary and chapel candles are $10 and burn for seven days. Flowers are $75 for the two arrangements. They are placed on the altar for the weekend Masses and then in the Adoration Chapel for Mass and our adorers.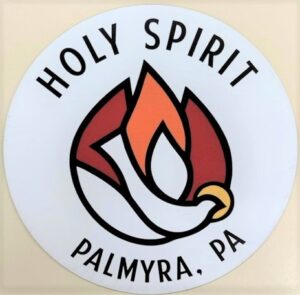 HOLY SPIRIT MAGNETS are available for $5 for your refrigerator and car. Stop by our parish office during regular business hours and help support the Knights of Columbus and our church!