"To seek to know the love of God revealed in Jesus Christ; to celebrate together as a Catholic family of faith; and to share our gifts and talents in loving service to others."
Register with our parish
---

Access our online parish directory: https:members.instantchurchdirectory.com
Sign up for the directory here.
---
NEWS  & EVENTS
Please pray for the soul of Sue Young, who recently passed. 
You can view her obituary here. 
ADVENT READINGS AND DAILY LIGHTING OF THE ADVENT WREATH
The Diocese of Harrisburg has provided daily readings and daily lighting of the Advent Wreath for everyone to use during this Advent season. For the readings and daily lightings click: Advent 2023.

STAINED GLASS WINDOWS
Are you interested in learning more about our stained glass windows. Perhaps you were surprised, or really liked the image depicted through these stained glass windows. If so, click on the Building and Grounds page to find all the explanations as well as the window that correlates to the description. 
HOLY HOUR OF REPARATION: Friday, December 1, at 7:00pm, Main Church.
All are invited to our First Friday devotion of this month. Spend some time with Jesus and offer up your prayers to His Sacred Heart to make reparation for our sins and the sins of the whole world.
CHRISTMAS FLOWER MEMORIAL FORMS
The memorial forms are available in the narthex and on our website. If you would like to memorialize a loved one at Christmas, please complete the form, attach your payment, and drop it off at our parish office or in the collection basket. Due date is December 3. Christmas Flower Memorial

MASS INTENTION BOOK, CANDLES, AND FLOWERS:
If you would like to remember or honor a loved one, the sanctuary and adoration chapel candles, as well as the flowers, are available for the entire calendar year 2024. The candles are $10 each and will burn for a week. The flowers are $75 for both vases. Stop by our office to schedule a date. The Mass Intention Book for 2024 is only open for the months of January, February, March, and April. May will open sometime in December. Please remember you can request two dates per year (October–September), with one being a weekend if you would like.
GIVING TREE COLLECTION: Saturday, November 18 – Sunday, December 3.
The Giving Tree has been placed in the narthex. Please continue your generous work to benefit Palmyra nursing homes by taking a ticket and returning the unwrapped gift item with the tag attached (gift bags will be accepted) before Sunday, December 3. The nursing home residents are so appreciative of your generous gifts!
ADULT FAITH ADVENT STUDY: Wednesdays, Nov 15 & 29, Dec. 6, 13, & 20, at 6:45pm, Multipurpose room.
All adult parishioners are invited to join our faith study for Advent this year. We will use the Rejoice! program from Ascension Press, which includes video reflections, Scripture readings, and faith sharing.The cost is $10 for the Rejoice journal. This is a wonderful way to grow in faith during this holy season. For more information, go to Ascensionpress.com. To register, please contact Mary Krikorian at womenatthewell@hspalmyra.com.
VIRTUAL MINISTRY FAIR: November 18, 2023 until January 14, 2024.
Calling all parishioners to join any of our wonderful ministries at Holy Spirit Parish through our Virtual Ministry Fair! From November 18, 2023 until January 14, 2024 discover how you can make a difference and volunteer your time and talents. To access the virtual ministry use the link https://www.surveymonkey.com/r/93DB5XV. Through this link you can learn more about each of our ministries and easily connect with the ministry leads for more information or to join the group. Don't miss out on this chance to give back and become an integral part of what makes our parish so special. Any questions, please contact our Parish Council at parishcouncil@hspalmyra.com.
CHRISTMAS CARD CRAFTING EVENT:  Saturday, December 2, from 10am- 12noon, Social Hall.
Shine ministry is hosting a Christmas Card Crafting event! Please join us in enjoying some light refreshments and listening to Christmas music as we dive into making two Christmas cards per person. Out of the two cards you will make, you will get to keep one for yourself and the other will be given to a homebound parishioner or a hospital patient. If you are interested in joining the Shine ministry for this spectacular event, please sign up on the sheet in the narthex that will be available on November 29. If you have any questions, contact Shine ministry at shine@hspalmyra.com. 
JUNIOR YOUTH MINISTRY EVENT: Sunday, December 3, at 12:30pm, Flagship Cinemas.
Children in grades 1-8, who attend PREP/Catholic School, are invited to join our Junior Youth Ministry watch Trolls Band Together. Each child will be given a personal popcorn and a drink. Please RSVP by November 25 at jryouthministry@hspalmyra.com. Due to the movie theater needing a firm number to reserve seats, no RSVP's will be accepted after the due date. 
CANDLELIGHT TOURS: November 24- 26, November 30, and December 1- 3, Seton Shrine.
The Seton Shrine invites its visitors to join them in their Season of Charity by supporting the Emmitsburg Food Bank either through financial contribution on site or by bringing some of the following items to donate during the Candlelight Tour as the Sisters of Charity and the students of St. Joseph's School assemble baskets of goods for the people of Emmitsburg. The tour will provide you with an immersive experience as you stroll down illuminated walkways, encounter costumed interpreters from Mother Seton's world, and see historic homes that she lived in, each tastefully decorated for the season. Please see setonshrine.org/candlelight-tours for more information.
LADIES CANDLELIGHT SERVICE AT HOLY SPIRIT CHURCH: Monday, December 4, at 6:00pm, Main Church. 
Ladies of the parish are invited to an evening of prayer, songs, and friendship which will be followed by a covered dish dinner. Voluntary monetary donations will be collected to support the Women's Ministry and the Parish Benevolence Fund. A sign up sheet will be available in the narthex beginning on November 18. For questions, contact Carol at 717-756-3480.
CHRISTMAS STORIES AND BOOK SWAP:
Monday, December 11, 6:30-7:30pm, 3rd Grade Classroom.
Please join parishioners of all ages for a evening of Christmas stories. We will listen to a classic Russian folktale, Babushka, and reflect on its messages. Then, we will have a book swap of favorite or notable Christmas stories. Participants should bring a copy of a Christmas or Christian book they would like to trade in the swap and a 1-2 minute summary of the story (or their favorite Christmas story). You are welcome to attend even if not participating in the swap
CAROLS AND COCOA!: Tuesday, December 19, 6:00pm, Agape Hall.
The Children's Choir is hosting the 2nd annual "Carols and Cocoa!" event. This family-friendly evening includes Christmas carol singing and a reception with cookies and hot cocoa. Bring your comfiest blankets, wear your favorite PJs, and bring some cookies to share if you'd like. No RSVP needed.
PRAYER LINE
Are you in need of prayer? Are you lonely or overwhelmed? The National Shrine of St. Elizabeth Ann Seton has a prayer line available with staff who will speak with and pray with you. Your prayer intentions can be placed on the tomb of Mother Seton. Call us toll free at 1-866-202-4934, Monday – Friday, 10am – 5 pm. We are here for you.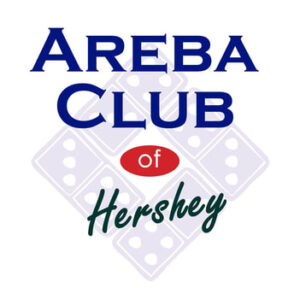 AREBA CLUB OF ST. JOAN OF ARC, HERSHEY:
The Areba Club is open to adults in the area over 50 year old, regardless of race, ethnicity, or religion. Join us for our meetings held the third Tuesday of the month at 1pm in the SJA Parish Social Hall, 359 W. Areba Avenue, Hershey, PA. For more information, please contact Marge Michalski at 717-838-6415. Areba Club information, including trips, can be found at https://www.stjoanhershey.org/areba-club.html. A schedule and description of their upcoming trips is also posted on Holy Spirit's bulletin board outside the parish office.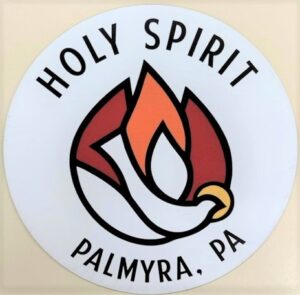 HOLY SPIRIT MAGNETS are available for $5 for your refrigerator and car. Stop by our parish office during regular business hours and help support the Knights of Columbus and our church!