"To seek to know the love of God revealed in Jesus Christ; to celebrate together as a Catholic family of faith; and to share our gifts and talents in loving service to others."
WORSHIP WITH US!

Parish Office  717-838-3369
Join us for Mass or watch our indoor live streamed Masses on YouTube
For our weekend Mass worship aid, click here
Register with our parish here

To access our online parish directory: https:members.instantchurchdirectory.com
To sign up for the directory, click here.
NEWS & EVENTS

IN LOVING MEMORY: Please pray for the soul of Robert Kuch, who recently passed. View his obituary here.
USCCB AND DIOCESE OF HARRISBURG SYNOD RESULTS: We have just received the results from both the USCCB National Synod and the Diocese of Harrisburg Synod. You are invited to take a look at these results here.
CHILDREN'S LITURGY OF THE WORD has started at the 11am Mass! For more information, click here.
CHILDREN'S CHOIR: Children's Choir has started back up! Children ages 5 and up are invited to join. We will meet on Tuesdays from 6-6:45pm, where we will praise God through song as well as practice for the monthly PREP Children's Masses! Contact Holly Serio at childrenschoir@hspalmyra.com to sign up your child, if you are interested in volunteering, or for more information. 
JOIN THE ARCHIVES MINISTRY: Do you love to research the roots of people and places? Do you enjoy organizing and creating? If so, the Archives Ministry needs you! As a start, this ministry plans to showcase our unique church artifacts in a display case and interview our "historian" parishioners, recording their memories. Share your gifts, talents, and time in telling our parish story from our "Theater" beginning to our "Community Campus" present. For more information, please contact the parish office at 717-838-3369 or email archives@hspalmyra.com.
SHARING OUR FAITH THROUGH CREATIVE WRITING:
St. Joan of Arc Creative Writers' Group
SJA is hosting an 8-week creative writers' group beginning Wednesday, September 14, at 6pm in Room 314 (in the old school). It's okay to join after the session has begun. For those who can't meet in person at any point throughout the 8 weeks, we will attempt to make attendance available online via Google Meet (like Zoom). As in the past, if you need to miss a session, no worries.
Writing is a gift and can be a wonderful way to share testimony of God's work in our lives. Writing for this group can be memoir, poetry, fiction, non-fiction, devotionals, reflections…really, any kind of writing. Please join us as we share our writing and participate in the opportunity to both give and receive feedback so we can all improve the telling of our stories. We'll be sharing writing tips along the way, too. Beginner to experienced writers welcome. Please email Karen Kier at kier.karen@gmail.com if you plan to attend or if you have any questions.  
WOMEN AT THE WELL: Wednesday, September 21, 7pm, Multipurpose Room.
The group formerly known as Blessed is She at our parish is looking to start anew. We will gather weekly to study the word of God, pray for each other, our families, friends and parish, and tell stories about our journeys in faith. If you'd like some companionship on your spiritual journey, join us on Wednesday evenings. Click here for more information.
SOCCER CHALLENGE COMPETITION: Saturday, Sept. 24, 2-5pm, Campbelltown Soccer Park.
The Knights of Columbus Palmyra Soccer Challenge Competition is open to all boys and girls ages 9-14. Entry forms are available at the event and in advance at www.hskofc10502.org. For additional information, contact Steve Kristich at 717-507-2744 or steve@nk-graphics.com.
PANCAKE SOCIAL! Shine Faith and Fitness Exercise Ministry is holding a Pancake Breakfast in the social hall on Friday, Sept. 30, 10am–12 noon. Join us to hear a little about our faith and fitness exercise ministry. We will start with a short walk around the property at 10am and then enjoy some pancakes, coffee, and a few games. There is no fee to attend. Please sign up on the sheet in the narthex by Monday, Sept. 26. 
BLESSING OF THE ANIMALS
Saturday, October 1, 10am, circle drive
Bring your beloved pets to Holy Spirit for Deacon Jorge to bless at the Blessing of the Animals, in honor of the Feast of St. Francis of Assisi, patron saint of animals and the environment. We will meet at the circle drive.

GRIEF SUPPORT GROUP: Where do you find comfort when you are grieving the  loss of a loved one? Holy Spirit Parish is starting a second grief support group for individuals that are suffering due to loss of a spouse, an adult child, or a parent. It will start the first week of October and will run for ten weeks. The group will not exceed ten people and will meet at Holy Spirit in the evenings. Time and day are to be determined. To register or for more information, email griefsupport@hspalmyra.com. Blessed are those who mourn, for they will be comforted (Matthew 5:4).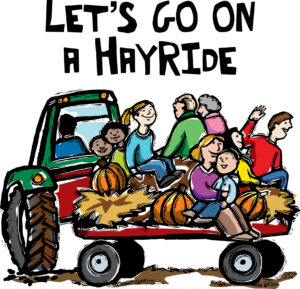 JUNIOR YOUTH MINISTRY HAYRIDE: Saturday, October 8, at 6:15pm, Risser-Marvel Farm Market (2425 Horseshoe Pike, Annville).
Children in grades 1-8 and their families are invited to a hayride and campfire with hot dogs, apple cider, and s'mores! The event is free for children in grades  1-8. Adults and siblings are $8; and children under 3 are free. An RSVP is required by October 2 to jryouthministry@hspalmyra.com. Have each child of all ages bring their own flashlight to play flashlight tag. 
DIOCESAN WOMEN'S CONFERENCE: Saturday, October 15, Diocesan Center, Harrisburg.
Registration is now open! Join us for the 2022 Diocesan Women's Conference, The Eucharist: Jesus in Our Midst. Keynote speaker Barbara McGuigan, founder of Voice of Virtue International and a former EWTN radio host, and Capstone Speaker Meg Hunter-Kilmer, a hobo for Christ, along with Most Rev. Ronald W. Gainer, Bishop of Harrisburg, and Katherine Phenicie, Spiritual Life Director at Delone Catholic High School, will awaken your faith and love for the Real Presence of Christ during this daylong event. In person and virtual attendance options. Registration and full conference schedule is available at www.hbgdiocese.org/women. Make plans now to join your sisters in Christ as we rediscover the Real Presence of the Eucharist!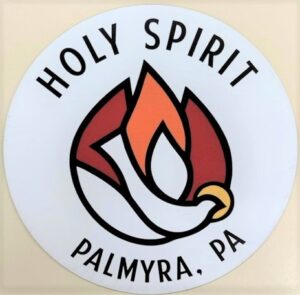 HOLY SPIRIT MAGNETS are available for $5 for your refrigerator and car. Stop by our parish office during regular business hours and help support the Knights of Columbus and our church!