"To seek to know the love of God revealed in Jesus Christ; to celebrate together as a Catholic family of faith; and to share our gifts and talents in loving service to others."
WORSHIP WITH US!

Parish Office  717-838-3369
Join us for Mass or watch our indoor live streamed Masses on YouTube
For our weekend Mass worship aid, click here
Register with our parish here
To access our online parish directory: https:members.instantchurchdirectory.com
To sign up for our directory, visit our Directory page here.
NEWS & EVENTS

NOTE: ON MONDAY, JULY 4, WE WILL HAVE A COMMUNION SERVICE AT 9AM INSTEAD OF MASS. THE PARISH OFFICE WILL BE CLOSED IN OBSERVANCE OF THE JULY 4TH HOLIDAY.
Holy Spirit's Summer Festival,
Spiritfest 2022,
is just around the corner!
Friday, August 5, & Saturday, August 6
5-10pm both evenings
Click here for all the details.
Volunteer sign-up starts July 3 here.

IN LOVING MEMORY: Please pray for the soul of Lawrence Sviben, who recently passed. To view the obituary, click here.
LA SANTA MISA EN ESPAÑOL: Holy Spirit te invita a unirte a nosotros en la celebración de la Santa Misa en Español el 26 de junio a las 6pm.
PRESENTATION ON THE MASS: Thursday, July 7, 6:30 pm, main church.
Rich Druby, our choir director and an aspirant in the deaconate formation program, will offer a presentation and lively discussion on "How to get the most out of Mass by understanding why we say and do what we say and do at Mass." All are welcomed and encouraged to attend.
HOLY HOUR OF REPARATION: All are invited to our First Friday devotion on July 8 at 7pm in the main church. Spend some time with Jesus and offer up your prayers to His Sacred Heart to make reparation for our sins and the sins of the whole world.
VOLUNTEER PARISH CLEANUP: Mark your calendars! Holy Spirit is planning a volunteer work party on Saturday, July 16, from 8am—completion, to weed, edge, and mulch. Please bring a hard rake, shovel, and wheelbarrow if you have them. If you can't work all day, just come and go when you can. RSVP to Joe Cesari at facilities@hspalmyra.com or 717-838-3369. Refreshments will be provided. Rain date is July 30.
SPIRIT SCRAMBLE 2022: The Knights of Columbus will hold their annual golf outing on Saturday, August 27, at 8am at Iron Valley Golf Course. Golfers of all skill levels are welcome to join. Visit https://www.hskofc10502.org for more information and to sign up. This event usually sells out early, so don't delay!
OUR SYNOD RESULTS ARE IN!
Take a look: https://holyspiritpalmyra.com/synod/
FIAT DAYS: Attention all Catholic women ages 15-25 – are you wondering what God's plan is for your life? Come explore this very question during the Diocese of Harrisburg's Annual Fiat Days vocation discernment retreat. Spend time with other young women your age as you listen to the Lord's call in your life through Mass, Eucharistic Adoration, and conversations with consecrated religious. Friendly competition, games, great food, and more round out the camp. Fiat Days will be July 5-8 at Saint Mary Providence Center, Elverson. Cost is $100 per person. Register by June 21 to attend. Details and registration can be found at www.hbgdiocese.org/fiat-days. Questions? Please contact the Office of Vocations at 717-657-4804, x 282, or email vocations@hbgdiocese.org.
JOB OPPORTUNITY, ST. MARY'S, LEBANON: Assumption of the Blessed Virgin Mary Church in Lebanon, PA, is seeking candidates for the Parish Secretary position. This person will be welcoming, providing administrative and office support, publishing the weekly bulletin, and updating content on the parish calendar. In addition, the successful candidate will perform various clerical duties as needed to support the Pastor and the Director of Religious Education. Qualified candidates should possess a High School diploma or a GED, have previous office experience, and be proficient with Microsoft Office, Excel, and Publisher. Applicants should possess strong organizational skills. Also, the successful candidate should have respect for and an ability to uphold Catholic Church teaching. To apply, please send a cover letter and resume to stm@abvmlebpa.org or fax 717-270-2734.
GOLF TOURNAMENT: Saint Mary's Annual Susie & Charlie Middleton Golf Tournament will be held on Friday, September 9, at Fairview Golf Course. Green fees, cart, and dinner are $80.00. If interested, contact Mike Groff, 717-383-7814.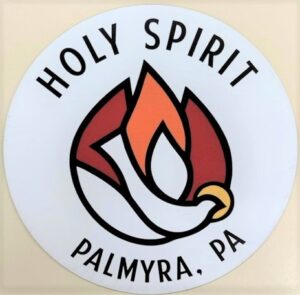 HOLY SPIRIT MAGNETS are available for $5 for your refrigerator and car. Stop by our parish office during regular business hours and help support the Knights of Columbus and our church!