"To seek to know the love of God revealed in Jesus Christ; to celebrate together as a Catholic family of faith; and to share our gifts and talents in loving service to others."
UPCOMING EVENTS

2018 Advent Penitential Services
Sunday, Dec 9        7pm St. Benedict, Lebanon
Monday, Dec 10      7pm Mary Gate of Heaven, Myerstown
Tuesday, Dec 11      7pm Sacred Heart, Cornwall
Wed, Dec 12         7pm Holy Spirit, Palmyra
Thurs, Dec 13         7pm St. Paul, Annville
Sunday, Dec 16       2pm St. Mary's, Lebanon
Sunday, Dec 16       7pm St. Joan of Arc, Hershey
Monday, Dec 24 – Christmas Eve
(No morning Mass)
4:00pm Mass (Children's Mass)
5:30pm Mass (Folk Group)
11:30pm Choir
12:00am Midnight Mass
Tuesday, Dec 25 – Christmas Day
10:00am Mass
Wednesday, Dec 26
No Mass or Confessions
Monday, Dec 31 – New Year's Eve
(No morning Mass)
4:00pm Vigil Mass
Tuesday, Jan 1 – Solemnity of Mary
11:00am Mass
No PREP classes Dec. 23 and 30 for Christmas Break. Classes resume January 6.
The Parish Office is closed Dec 24, 25, 26, 31 (3pm early closure), & Jan 1.
The Blessed Sacrament will be reposed Monday morning, Dec. 24, and will reopen Wednesday morning, Dec 26.
CHILDREN'S CHRISTMAS PROGRAM: Monday, December 10, 7pm
All are invited to this year's Children's Christmas Program, Christmas is Coming: The Gift of God's Love. Experience this inspiring story told through our children and support their efforts by taking a moment out of this busy time of year to warm your heart and recall the reason for the season!
CONSECRATION TO THE HOLY FAMILY: Sunday, December 30, 11am Mass
The Knights of Columbus invite you to join in a Consecration to the Holy Family to be held at the 11am Mass on Sunday, December 30. We  invite each family to attend and devote themselves to the ideal model of familial love set by Jesus, Mary, and Joseph. Prayer cards will be distributed prior to Mass. Following Mass the Knights will hold their 5th Sunday Rosary. All are welcome to attend.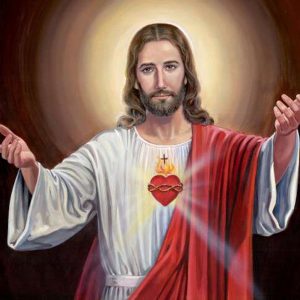 HOUR OF REPARATION TO THE SACRED HEART OF JESUS: Every First Friday starting Jan 4, 7pm, Adoration Chapel
Please join us in a beautiful devotion honoring the Most Sacred Heart of Jesus. Why we do an hour of reparation to the Sacred Heart of Jesus? The name of Jesus is regularly blasphemed and abused in media, literature, and when He is wounded by our sins, one way we can show love is by making acts of reparation for the abuse He receives. Reparation is an act of restitution, of making compensation, to someone for the wrongs we have done to them, and in some way repairing any damage that we have done by our wrongdoing.
ONGOING
LET YOUR BEAUTIFUL LIGHT SHINE❤️
Join Shine Faith and Fitness in December for some festive workouts, spiritual nourishment and Chocolate Peppermint Smoothies! Click here for December's calendar of events.
NEWS
CHRISTMAS FLOWER MEMORIALS: Honor your loved ones with a Christmas poinsettia! Request forms are located in the Narthex and are due by Sunday, Dec. 9. Please remember to include who the Flower Memorial is FROM. You may place your form in the collection basket or drop off at the Church office.
Knights of Columbus GIVING TREE: Please return your UNWRAPPED gift (gift bags allowed) by December 8. Thank you for your generosity!
NUT ROLLS AND PIROGI! You may  pick up your order in the Social Hall after Mass on December 15/16.
MARCH FOR LIFE BUS TRIP TO WASHINGTON DC: On Friday, January 18, 2019, the Knights of Columbus will sponsor a bus trip to Washington DC  to participate and experience the March for Life. All ages are welcome to join us to voice our opposition to abortion, stand up for life and support our faith, and unite with other Christians. The bus will leave Holy Spirit Church at 7:30am and return at 7:30pm. A box lunch will be included for the trip home. It is an experience you will never forget. Sign up sheets are located in the Narthex. Payment of $25 per person is due by January 3. Contact Art Bond, 717-383-8583 or abond702@comcast.net.  
HOLY SPIRIT 2016 DIRECTORY: The Holy Spirit 2016 Directory is now available for those who had their pictures taken. It is available for pickup during regular Parish Office hours.
The MASS INTENTION BOOK for January – April of 2019 is now open. Candles and flowers for the entire year 2019 are also available. Due to the increase in Mass intention requests at Holy Spirit, the Diocesan Vocations Director, Fr. Brian Wayne, has agreed to say Mass for the intentions of our Holy Spirit Family.  Beginning with the 2019 book, just like our current opening (Jan-April), we will also offer the same days for Fr. Wayne to remember your intention if the Mass is already taken at Holy Spirit. When you come to the office to schedule a Mass, you can choose whether you would like it at Holy Spirit or sent to Fr. Wayne.