"To seek to know the love of God revealed in Jesus Christ; to celebrate together as a Catholic family of faith; and to share our gifts and talents in loving service to others."
WORSHIP WITH US!

Parish Office  717-838-3369
Join us for Mass or watch our indoor live streamed Masses on YouTube
For our weekend Mass worship aid, click here
Register with our parish here
To access our online parish directory: https:members.instantchurchdirectory.com
To sign up for our directory, visit our Directory page here.
NEWS & EVENTS

TONIGHT, MAY 23! Listen to a live stream lecture of Br. Guy Consolmagno, S.J., on "From Peru to Mars: New Worlds and Jesuit Science."
https://mailchi.mp/vaticanobservatory/join-brother-guy-virtually-on-monday?e=6614278efd
ASCENSION THURSDAY
MAY 26
6pm Vigil Wednesday
(also live streamed)
9am & 6pm Thursday
& parish office closed
IN LOVING MEMORY
Please pray for the soul of Catherine Proietto,
who recently passed.View her obituary here

Listen to a radio interview of Father Anthony on WLBR 1270AM! Holy Spirit's 4pm Saturday Mass will now be broadcast on Sunday mornings at 10am. 
OUR SYNOD RESULTS ARE IN!
Take a look: https://holyspiritpalmyra.com/synod/
CONFIRMATION REHEARSAL is scheduled for Saturday, June 4, from 5:30-6:30pm in the church. Sponsors must be present and at least one parent must attend. All students must attend. Confirmation is on Pentecost Sunday, June 5, at 2pm. 
50+ SINGLES GROUP: We don't always have the option to choose the road we travel. It is not always easy, but there are moments of joy and blessings that can make our journey most amazing. The 50+ Singles Group will provide a safe haven for fun and fellowship. Wonderful friendships can develop as similar interests are uncovered, and the growth of membership will provide more friendships and a broadening of horizons. Participation in the planning and execution of events such as pot luck dinners, bowling, movie nights, game nights, community service projects, outdoor activities, worship, and volunteering is encouraged. All activities and announcements will be filtered through a Facebook page. For more information, please contact singles@hspalmyra.com. On the weekend of May 28/29, Ilse Heine will be available in the social hall after every Mass to answer questions to or sign up anyone interested in joining the group.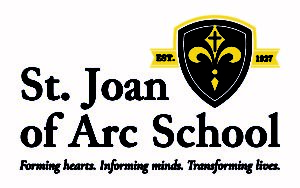 ST. JOAN OF ARC CHURCH 48TH ANNUAL PARISH FESTIVAL: June 9, 10, 11 (Thurs, Fri, Sat), 5-10pm each night. Click HERE for details.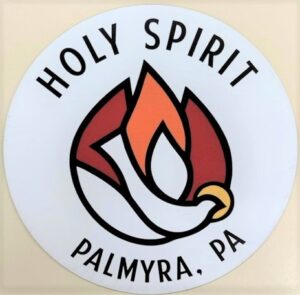 HOLY SPIRIT MAGNETS are available for $5 for your refrigerator and car. Stop by our parish office during regular business hours and help support the Knights of Columbus and our church!