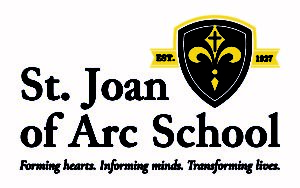 1525 Sand Hill Road
Hummelstown, PA 17036
717-533-2854 http://school.stjoanhershey.org/
News from St. Joan of Arc School September 2023
THIRD FLOOR NEWS:
The school was blessed to open on September 5th with the near completion of the project on the 3rd floor. New classrooms, a student lounge, and a small adoration chapel have been completed in anticipation of the large permanent main chapel. As always, SJA is grateful to its generous donors for their contributions to this important project. 
RACE FOR EDUCATION:
On October 20th, the SJA Race for Education will take place at 1pm at the Sandhill Campus. This event raises funds for the school to help keep tuition affordable, purchase much needed items for the school, and so much more! Please consider supporting our St. Joan of Arc School by donating via check or QR Code.

TEACHER WISH LISTS:
Teacher Wish Lists are available to view. These lists are provided by the teachers for much needed supplies and items for their classrooms. If you would like to donate, please scan the QR code, or contact the school.