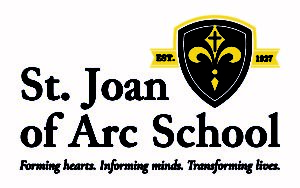 1525 Sand Hill Road
Hummelstown, PA 17036
717-533-2854 http://school.stjoanhershey.org/
ST. JOAN OF ARC CHURCH 49th ANNUAL PARISH FESTIVAL: June 8, 9, 10 (Thurs, Fri, Sat). 5:00-9:30pm each night. Fun for the whole family! Children's games and activities; silent auction (including Fr. Al's dinner for 10; Fr Josh's slushy party; autographed Christian Pulisic Jersey and a trip to Sicily) raffles; plants; bake sale; crafts, and more!
Musical entertainment:
Thursday, June 8 – Guitars 4 Vets
Friday, June 9 – Big Mama and The Velvet Martinis
Saturday, June 10 – Crossing Abbey Road
Festival location: 359 W. Areba Ave Hershey, PA 17033, 717-533-7168; www.sjafestival.com.
SJA School Enrollment is NOW OPEN! 
Information may be found on the SJA website at http://school.stjoanhershey.org or by calling the school at 717-533-2854. Please ask for the Office of Development, Mrs. Deb Rizzotto. 
SJA STEM summer camp registration is OPEN! Please visit the school website to register today. http://school.stjoanhershey.org
After School Care Assistants Needed
Hours are 3—6pm Monday—Friday; days and hours may be negotiated. Supervise students as they participate in activities such as snacks, arts and crafts, outdoor recess, homework, socializing, etc. Respond to basic emergencies and look out for the welfare of the students. Clearances required. Contact Sister Eileen at stjoanhershey.org or 717-533-2854, x 118.