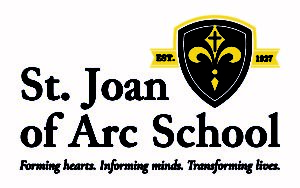 359 W Areba Avenue
Hershey, PA 17033
717-533-7168
http://school.stjoanhershey.org/
OPEN HOUSE: Sunday, January 26, 6-8pm, 1525 Sand Hill Rd, Hummelstown
All Holy Spirit parishioners are invited to an Open House with tours of St. Joan of Arc School's new 36-acre Sand Hill Campus location! Light refreshments will be served.
CATHOLIC SCHOOLS WEEK: January 26 – February 1
Online registration for new students will be available on January 26 at 10am for all grades (Pre-K for 3-year olds to 8th grade). NEW next year: All-day Preschool for 3-year olds! Contact Deb Rizzotto at 717-533-2854 to schedule your personal tour. We would love to have you join our school community!
LUNCH/PLAYGROUND  VOLUNTEERS NEEDED: Volunteers are needed to help students during lunch and to supervise students on the playground from 11:20am-12:20pm each day. Even one day a week would help. Please contact Sister Eileen at 717-533-2854, x 118 or sreileen@stjoanhershey.org. Students love to see their parents or grandparents helping at the school, and it's a very enjoyable opportunity to help our children. Any amount of time is greatly appreciated!