ANNUAL LENTEN FISH FRY 2023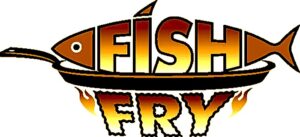 Come join us for our annual
LENTEN FISH FRY!

Dine-In, To Go, or
Order Online for Curbside To Go:
Click Here to Order Fridays 3-6:45pm
Fridays – March 17, 24, & 31
  3:00 – 7:00pm
FEATURING:
Fresh Cod Fillets (baked or fried) $15
Crab Cake Dinner (1 cake) $13    (2 cakes) $17
Fried Shrimp Dinner (6) $12
Fried Clams Dinner $12
Pierogi Dinner (6) $9
Dinners include French Fries (except Pierogi Dinner); Dinner Roll;
Dessert; and choice of Cole Slaw or Applesauce

SIDES
Crab Cake Side w/Meal $5
French Fries $2
Pierogis (3) $2
Soup (NE Clam Chowder) $3
Mac-N-Cheese $3
Cole Slaw; Applesauce; Extra Dessert $1 each
Drinks $1

CASH OR CREDIT ACCEPTED
VOLUNTEERS: Sign up at https://www.signupgenius.com/go/60B0C4EADA629A3FA7-fish

CAKES AND DESSERTS are needed! (Please – nothing that needs refrigeration.) No need to sign up on the link above. Just bake your delicious desserts and drop them off at the church anytime on Thursday evening or Friday morning before 2pm. Thanks.