COVID-19 UPDATES
Read the USCCB's letter regarding COVID Vaccines
Mass Attendance
In-person Mass attendance will be on a first come first serve basis with approximately 80 parishioners allowed inside the building per Mass.

For anyone that would be unable to be seated inside the church we welcome you to attend virtually from outside

To view our Mass on our Holy Spirit YouTube channel, click here.

FM radio station – 95.9 FM (only available on Church property)

The dispensation from the Sunday obligation to attend Mass is still in place.  Mass will continue being live streamed on Facebook for anyone wishing to attend mass virtually from home.  Communion can still be received outside the Church after Mass

(see below for guidelines).

Please monitor your own health conditions.  If you are showing any signs of illness such as fever, cough or runny nose please do not attend mass in person.
Arriving at Church
It is recommended to arrive at Church early to allow proper time for seating.

All parking should be in the main parking lots on the south side of the Church

Please maintain social distancing while entering the building

There will be only one (1) entrance into the Church on the south main parking lot side of the Narthex.

All other doors will be locked.

As you enter the building you will be greeted by an usher, who will seat you.  Please follow the usher's guidance, as they will be seating according to proper social distancing guidelines so that we may accommodate as many parishioners as possible.

If you intend to sit together with family, please enter the Church together so that ushers can properly seat you
Cleanliness & Other Procedures
A mask MUST be worn prior to entering the Church and remain on throughout the duration of Mass.

The mask must fully cover your mouth and nose.

Children over the age of 2 are required to wear a mask.  If your child is unable to keep their mask on, please take advantage of our virtual participation options and come to Communion after mass.

There will be hand sanitizer stations available for use.  If possible, please please bring your own.

There will be only one (1) unisex bathroom available.  The regular Men's/Women's bathrooms will be closed.

Volunteers are needed for Church cleaning.  Please stay after mass if you are able to help
Communion Procedures
Inside the Church

Communion will be dispensed after Mass is over for all parishioners inside the Church.

Ushers will guide parishioners to the Narthex (starting with the back pews) to receive communion near the exit doors in the Narthex.

Proper Method to receive Communion:

Prior to approaching for Communion there will be a hand sanitizing station available.  Fully remove your mask by handling  only the ties or ear loops (do not pull down around your neck or over your foreead), tuck it in your pocket or loop it around your pinky finger and then properly sanitize your hands

Receive communion (recommended to receive by hand)

Immediately proceed out the exit doors to your vehicle

A used mask should not be worn again until it has been washed.  Do not replace your mask after receiving Communion

Outside the Church

Communion for parishioners not inside the Church will be dispensed after Mass.

This will be available for 1/2 hour after Mass

Parishioners will line up on the sidewalk outside the Adoration Chapel.

Father Anthony will be stationed under the overhang of the Adoration Chapel.

Proper Method to receive Communion:

One person at a time will approach Father up the ramp.  Please remain in your car until it is your turn

Please bring your own hand sanitizer to use after exiting your vehicle.  There will be a hand sanitizing station available at the bottom of the ramp as well.

Receive communion (recommended to receive by hand)

Immediately proceed back to your vehicle
Parish Giving
You may continue parish giving using the following methods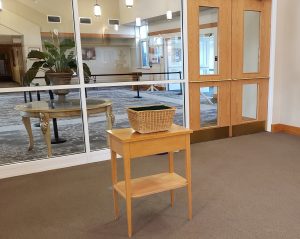 Leaving the Church
Maintain social distancing while proceeding to your vehicle.

Any social gathering on church property is prohibited.
Thank you for reading these precautions and taking them seriously so that we can all safely return to the Lord's table